School is out for the summer here in San Diego! And we are ready!!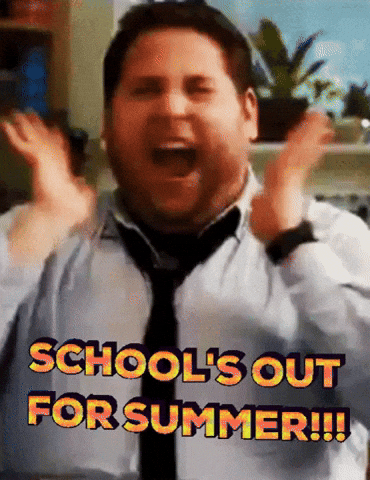 The end of school is always such a busy time of year right?
Helping the kids wrap-up the school year, going to sports banquets, AND in our son's case copious amounts of baseball! He was finishing-up his sophomore year and was asked to help the varsity team for playoffs. It's been an honour for him to be recognized in his efforts this year.
And the funny part?! They keep winning. and so they have their final game today, after school is out! Then it's on to summer baseball 🤣
It's also our 18-year wedding anniversary, and we are always lucky to fit in a quick dinner with the hectic nature of the school-end wrap-up.
This summer I'm excited to be writing my book, focusing on our new production partnership with our podcast, and supporting coaches wanting to grow their income.
Kid and schedule wise, this looks like most afternoons off, and enjoying lots of fun around town and at Lake Tahoe 💙
And if you're thinking about your summer if you're not already there, how do you want it to look?
What is important to you work and family wise?
There is no right or wrong way, it's whatever is in alignment with your goals in both areas.
And you absolutely can do both.
I remember a business coach I hired once telling me the summer and December are slow times for coaches. I believed it at first.
Until I started studying belief systems and realized it was exactly that. A belief. And a limiting one at that.
I went on to "surpass" the odds with experiencing record setting revenue in both the summer and December!
So tune in, be honest with yourself, and ask for what you really want.
The universe is there to support you ⭐️
Have a beautiful weekend,
~ Your Coach, Chris xox
P.S. Let's connect on the gram if we're not already? Click 👇 and follow 💛